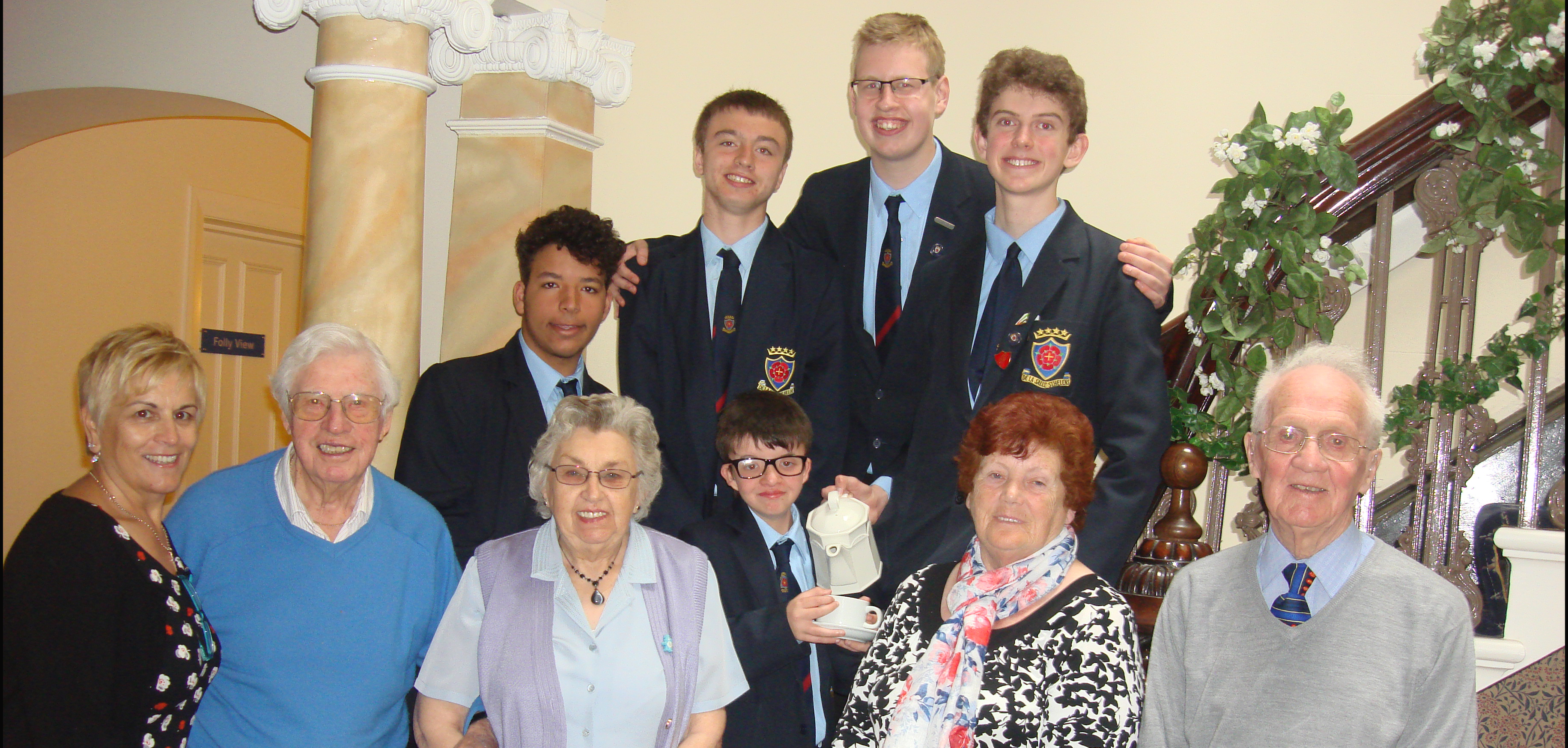 De La Salle Pupils Serve Morning Coffee at the Mansion House
A group of Year 10 students from De La Salle School arranged a special Coffee Morning for a group of older people attending Age UK Mid Mersey's Positive Living Community Day Centre at the Mansion House, Victoria Park earlier today.
The students worked hard raising funds for the coffee morning by selling over 200 hot dogs to fellow students at the school, enabling them to buy a wide selection of hot drinks, cakes and biscuits which they then served while sharing stories with the appreciative group at the Mansion House.
Claire Bullock, Teacher at De La Salle School said "The group of students is extremely excited about getting involved and helping their local community. We are supporting Age UK Mid Mersey both as part of the Get Set for Community Action and also as part of our Asdan Award Programme. The pupils were happy to raise funds for Age UK Mid Mersey and use these funds to hold a coffee morning for local older people at The Mansion House. "
Later in the day, the group from De La Salle School along with Age UK Mid Mersey volunteers made a start on transforming one of the unused vegetable plots in the kitchen garden at The Mansion House.
Age UK Mid Mersey is committed to promoting an improved quality of life for older people whilst reducing loneliness and isolation. It runs Positive Living Community Day Centres across St Helens each weekday, and is great value for money, - with a day full of companionship, activities, group discussion, reminiscence and general support, for just a small daily fee. The fee also includes a 2 course seasonal lunch with refreshments throughout the day. Transport can be provided if required.
If you have a relative who could benefit from companionship and the opportunity to make new friends, or would like to become part of our team of volunteers, please contact Kym Smith on 01744 752 644 email: kymsmith@aukmm.org.uk for further details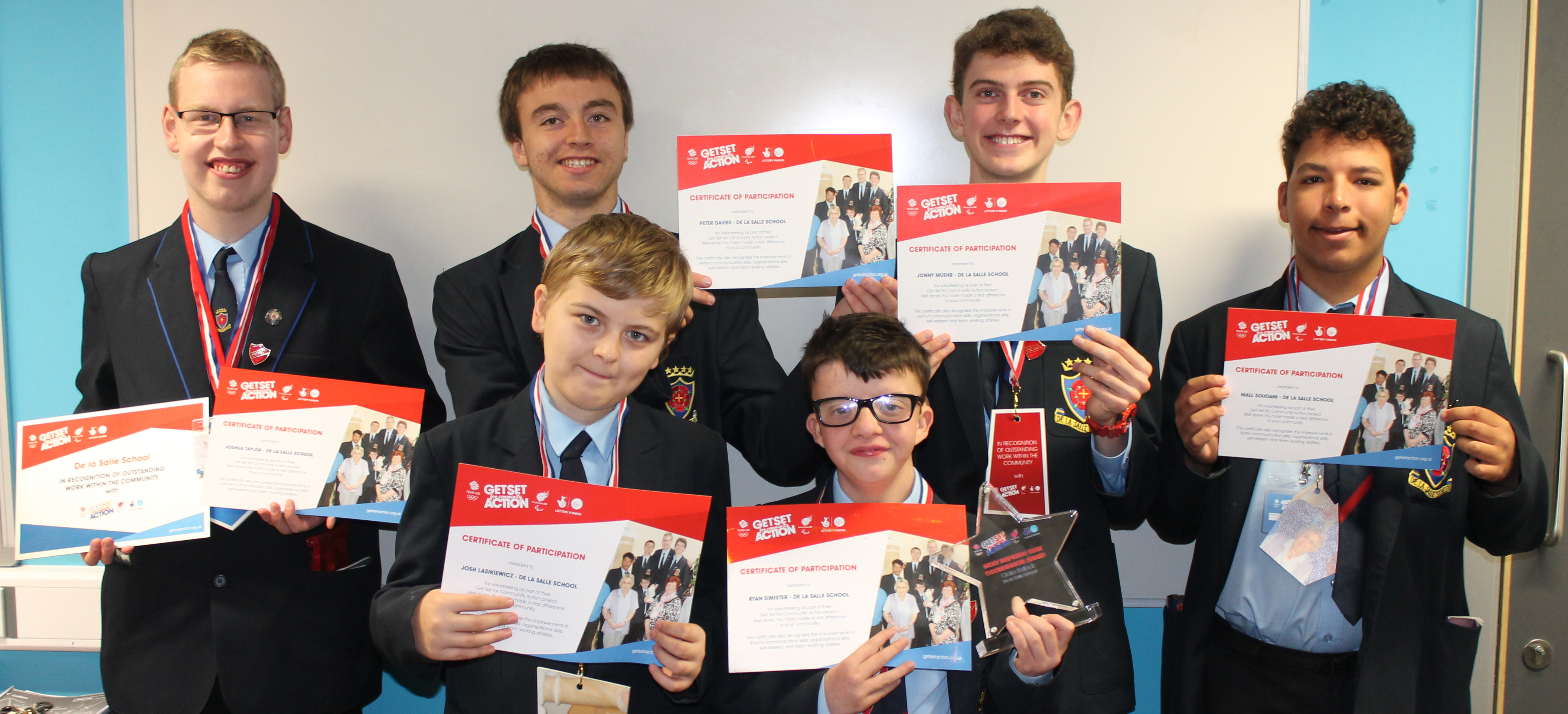 Asdan trip to London
On Tuesday 13th September, my Asdan group, Josh T, Ryan, Niall, Peter, Jonny and Josh L, Mrs Bullock and Mr Stephens, and Kim and Karen from Age UK went to London as we had won a competition with Get Set for Community Action. We had been working with Age UK Mid Mersey, holding coffee mornings, giving out warm packs and gardening since November 2015. We had got to know some of the old people, and had really enjoyed our projects.
We got a lift from our parents to Wigan train station. Then we got a train at 9:09 to London where we got off the train, and met Ben from Get Set for Community Action, our tour guide for the two days.
We got the open top bus and it was an absolutely awesome experience! We saw Big Ben and the Houses of Parliament. We also saw Westminster Abbey and we got off the open top bus at Buckingham Palace. We got a boat down the Thames. We got off at Tower Bridge and then took the underground to the Olympic stadium. Ben showed us around. We also went to the Olympic slide where we watched Ryan go down the slide and he screamed going down! Then we went to go and set up for the next day at The Podium Venue. We had pizza for our tea with our friends and then we played some games back at the hotel.
On Wednesday 14th September we had breakfast and then went back to the Olympic Stadium. We spent the morning talking to people about our projects with Age UK. We met 2 Great Britain rugby seven players, Dan Norton and James Rodwell, and a runner, Christian Malcolm. Everyone we spoke to was kind, and seemed interested in our projects. It was fun talking to all the people. In the afternoon, we had a celebration assembly, and were given some medals and certificates.
Afterwards, we went to Ripley's Believe It Or Not Museum, then we went to Planet Hollywood were we had our tea. Then we caught the train back to Wigan. Our parents collected us at 11pm.
https://www.sthelens.gov.uk/news/2016/september/20/de-la-salle-students-get-set-for-community-action-across-the-uk/
http://skemnews.com/news/de-la-salle-students-get-set-for-community-action-across-the-uk/